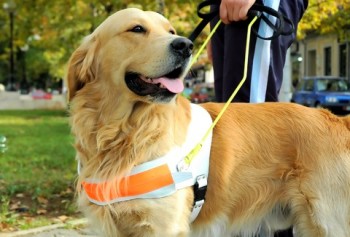 The Wag, Inc., purveyor of fine leather goods for dogs, recently announced its campaign to raise funds for two dog-related charities:  National Service Dogs in Canada and the Fidelco Guide Dog Foundation in the US.  For every item sold via their internet site, The Wag will donate two dollars to each of the charities.
Tibor Hattayer, the company president, has worked with autistic children and adults for over 20 years, so he wanted to find a way to help train service dogs for differently-abled people.  The result is the "Leading the Way" campaign developed by his company.
Says Hattayer:  "Service dogs have a huge positive impact in the lives of people who have disabilities.  I am amazed and inspired by the way these dogs bring joy, support, friendship, and freedom to people in need.  I think the organizations that train service dogs deserve as much help as we can give them.  That's what this campaign is all about."
To learn more about National Service Dogs, click here, and to learn more about the Fidelcom Guide Dog Foundation, click here.  And don't forget to visit The Wag to make a purchase in support of the Leading the Way campaign!
Until next time,
Good day, and good dog!
Similar Posts: