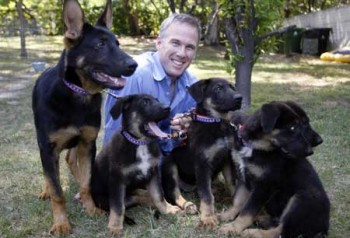 What do you think, readers?  I know many people are vehemently opposed to cloning, but I wonder if it's situational or absolute.  What if the clonee is a hero?  Here's the scoop, according to the NY Daily News.
Trackr, a German Shepherd hailed for heroism for his efforts at serching through the World Trade Center rubble for victims of the September 11th attacks, died in April from a degenerative brain disorder.  He was 16, and had evidently lived an extraordinary life.   He helped to locate the last survivor of the bombings under 30 feet of debris.
His handler, James Symington wrote an essay which said, in part, "Once in a lifetime, a dog comes along that not only captures the hearts of all he touches but also plays a pivotal role in history."  The essay was the winner of BioArts International's Best Friends Again contest to find the most cloneworthy dog.
So, now there are five exact genetic copies of Trackr running around Symington's house.  Symington was a Canadian police officer, and now lives in Los Angeles, where he hopes to get the five puppies involved in search and rescue.
So, what do you think?  Is this a good thing?  Or is cloning still bad regardless of who gets cloned?
Fair's fair…I guess I should tell you my thoughts if I expect you to tell me yours.  I have no personal strong feelings against cloning.  I can't imagine ever spending the thousands it costs to have it done, but if people want to spend their money on it, what difference should it make to me?
Until next time,
Good day, and good dog!
(Photo credit:  AP/Damian Dovarganes)

Similar Posts: