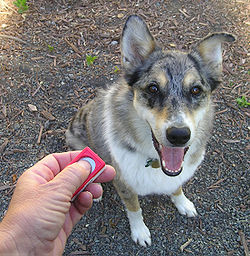 We were watching "It's Me or the Dog" on Animal Planet this morning, and Victoria was demonstrating the use of a clicker to train a dog.  If you're not familiar with it, the idea is to use a clicker to signal the dog that he is doing something right.  Here is a short video showing how the clicker works – beware they are trying to sell you something!
To start out, Victoria simply clicked and gave the dog a treat, clicked and gave the dog a treat, several times until the dog realized that the clicking sound meant something good was coming.  Then, she would have the dog sit.  As soon as his butt hit the ground, she clicked and gave the dog a treat.  When she told him to lay down, she clicked and gave him  a treat as soon as he did so.
Of course, since this was a 1/2-hour show, the dog appeared to learn the  system in a matter of minutes.  So, my question is:  has anyone tried this method?  Does it work well?  Is it quick for the dog to learn?  Can it be used in a household with multiple dogs or does that just confuse the dogs?  Is there anything magical about the "official" clicker or can any distinctive sound be used?  (My thought was to use a different sound for each dog, but I'm not sure how I'd keep up with that.)  And finally, what advantage does the clicker give you over simply giving the dog a treat when he performs well?
Please comment below and let us all know your experiences with clicker training.  I know some people absolutely swear by the technique.  I haven't heard anything negative about it, and I'm just wondering what the downsides are.
Until next time,
Good day, and good dog!
Similar Posts: