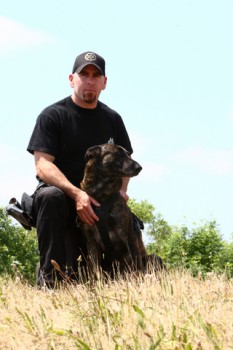 This is the second time recently that I've seen articles telling about police K-9 handlers leaving their dogs in a car in extreme heat, causing the death of the dogs.  The most recent one was a handler in Nottinghamshire, England, who left two dogs to die in his personal car on the hottest day of the year, when temperatures reached 85 degrees.  He may be prosecuted under Britain's animal cruelty laws.  This brings to mind a couple of questions.
First of all, isn't it just common sense not to leave your dog in a car?  Think about how hot it is when you get into your parked car after leaving the mall or at the end of your work day.  Does anyone really think an animal could stand this temperature for very long?  According to the article in the London Daily Mail, the interior temperature of this car was 116 degrees.
Secondly, even if this particular officer didn't have any common sense, shouldn't he have been trained to protect his dogs from the heat inside of a car?
Finally, why would a police department have the officer transport the dogs in his personal vehicle?  At least in the US, K-9 patrol cars are generally outfitted with many special features to protect the dogs.  They have air conditioning in the back seat, along with fans that kick on if the air quits.  In addition, they have fail-safe procedures that roll down the windows and page the handler if the car's interior reaches a certain temperature or if the air circulation stops.
England is a pretty progressive country – I can't believe their vehicles wouldn't be equipped with this type of equipment as well.  It seems to me that if the dogs are to be transported to and from work, they should be taken in the specially-equipped cars rather than private vehicles.
Does anyone know any more of the details on this?  Are the K-9 cars built differently?  Are handlers required to transport their dogs in their personal vehicles?
Such a waste!
Until next time,
Good day, and good dog!
Similar Posts: