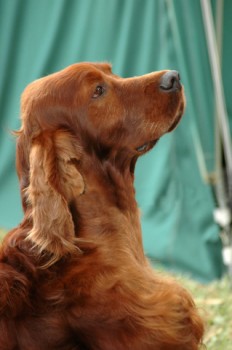 No, I'm not talking about dogs who wear green bandannas on St. Pat's Day. I'm talking about Irish Setters, Soft Coated Wheatens, and their brethren from Ireland. In Cleveland this weekend, one of the big events is the Irish Cultural Festival.
In addition to the music, reunions, crafts, and kids' stuff, there is a dog show featuring dogs who originated in Ireland.  What a cool idea!  The dogs were featured on the local news this morning, and they were just beautiful!
Do you have similar festivals in your area?  Is there an opportunity to add a dog show that fits with the theme?  Why not approach the organizers and see if you can add a mini-event to the festival?
Until next time,
Good day, and good dog!
PS – The beautiful Irish Setter pictured above is from our 101 Things You Should Know About Dogs e-book.  Download your copy today!

Similar Posts: