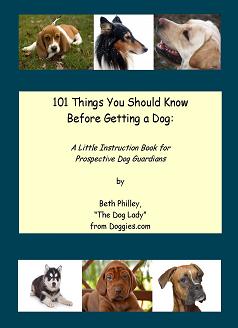 My first non-fiction book is just about ready to be published, and I'd love to have your feedback before it goes to press. Based on the research I do every day for this blog and for the articles in the doggies den, I have written a little instruction book for prospective dog guardians called "101 Things You Should Know Before Getting a Dog".
You can download and preview the first chapter of the book here.  I'd really like some honest opinions – do you love it?  Hate it?  Think it might sell?  After reading the 1st chapter, there is space on that same web page for you to rate the book and tell me what you thought.
Thanks in advance for your help!
Until next time,
Good day, and good dog!
Similar Posts: