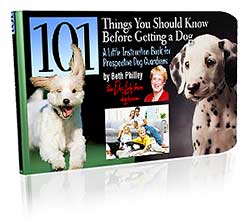 The long-awaited (by me, anyways) publication of my book as an e-book download is finally a reality!  That's right, you can now download your very own copy of "101 Things You Should Know Before Getting a Dog:  A Little Instruction Book for Prospective Dog Guardians" right here, right now!
It took us awhile to get the site set up to accept payments securely and to get the book to download properly, but it is now ready for your purchase.
As some of you know, the book was published first in softcover (available here), but it is pretty expensive to do the color printing.  So, we wanted to find a way to get this valuable resource in your hands at a more reasonable price – just $9.95.
Click here to be taken to the sales page for the e-book.  Be sure to let us know what you think!
Thanks.
Until next time,
Good day, and good dog!