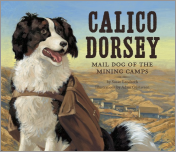 I was sent a preview copy of a children's book called Calico Dorsey:  Mail Dog of the Mining Camps,   which will be available from Random House Children's Books on September 28th.  It was a delight!
In the 19th century, when men headed for the hills to seek their fortunes from gold and silver, miners living in remote places needed a mail carrier they could trust to connect them with the outside world.  In Calico, California, the best man for the job was a Border Collie named Dorsey.
The homey text, based on a true story,  is written by Susan Lendroth and warmly illustrated by Adam Gustavson.  Susan has a Facebook page where you can read more about her life in Sierra Madre, California, not too far from the mining town of Calico.
The book is 32 pages long and aimed at ages 4 – 8.  The ISBN number is 978-1-58246-318-6, and it retails for $16.99. 
I would highly recommend it for teachers and parents of young children who have an interest in the history of the old west.
Until next time,
Good day, and good dog!

Similar Posts: