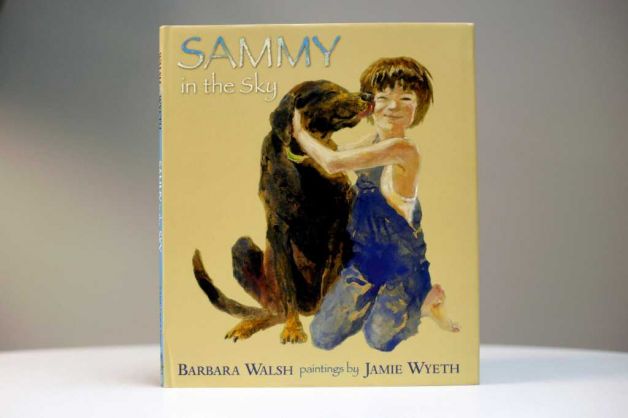 Have you ever had to deal with the grief of losing a beloved pet?  No one wants to go through this, but if you have pets long enough, you will eventually deal with their loss.  As hard as it is for us as adults, think about how much more difficult it would be to process the loss as a child.  To address this concern, Pulitzer Prize-winning journalist Barbara Walsh has written "Sammy in the Sky" to help parents help their children through the death of a pet.
The book is based on Walsh's own experience watching her young daughters struggle with the death of their beloved mixed-breed hound as he passed to the big dog park in the sky.  Emma and Nora were ages 5 and 3 at the time Sammy died from cancer after 12 years with the family.  Walsh took notes as she comforted her girls through their anger, questions, and grief six years ago.
She then turned those notes into a book, illustrated by Jamie Wyeth in watercolor, acrylic, and pencil.  The first printing of 10,000 sold out very quickly, and the book is now on it's third printing.
Read the full review from the AP's David Sharp.  The books is available on Amazon.
Until next time,
Good day, and good dog!
Similar Posts: