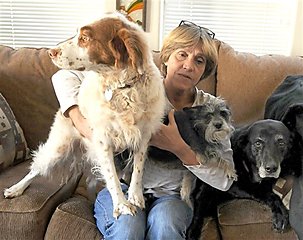 Former airport baggage handler Lynn Jones knew there was something wrong with the dog in the carrier.  She was supposed to load the dog onto a plane, but when she saw the sad look and his emaciated body, she was certain the poor creature wouldn't survive the flight to Texas.  So she refused to load the dog on the plane, going against her supervisor's instructions.  Ms. Jones was fired as a result of her refusal.
A month after the incident at Reno-Tahoe International Airport, the dog has fully recovered (and has been returned to his neglectful owner!) but Ms. Jones is still jobless despite the fact that her former employers and company executives have praised her actions and "situational awareness".
You can read the full story here.
Similar Posts: