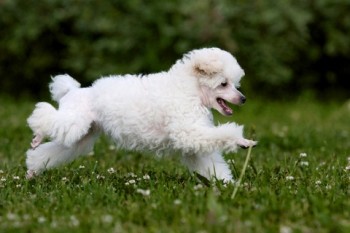 Two totally unrelated dog stories in the news today caught my eye.  First, from Boston's Logan International Airport:  Choochy the poodle.  Second, from Riviera Beach, FL, a swarm of bees killed three dogs and injured another. 
Choochy was onboard a flight from Detroit to Boston, arriving in Boston Saturday night.  And, boy did she arrive!  As she was being unloaded, she broke out of her kennel and ran away over airport property.  If you've ever flown into or out of Logan, you know it is huge. 
Call me loopy, but this story amuses me because I have seen how I and others look chasing my dogs when they are loose.  You can't help but look like a fool because dogs are so good at faking, dodging, and weaving.  So, Choochy is running loose on airport property for SEVENTEEN hours, with state police, firefighters, airport operations personnel, and others chasing her.  She even delayed at least 8 flights up to 30 minutes.  (OK, that part's not so much funny as annoying.)
Finally, early Sunday afternoon, someone thought to put down some food.  Must have been something good because that was enough to lure Choochy in to where she could be caught, treated for minor injuries, and returned to her family.
Some of the comments this story generated on Boston.com were cute:
            From Naknowsthenews:  "I was on one of the flights that was delayed.  Poor Coochy (sic) – she's very lucky she didn't get in the way of a plane!  When the pilot said that we didn't have clearance to land because of a dog on the runway it was so hard to believe…Way to go Coochy!  That little dog has spunk!"
             And my favorite from JFD8-1:  "Put Choochy on the no-flea list!"
The other story isn't even anywhere close to funny.  It's incredibly scary.  A 70-year old woman and her two dogs were attacked by bees in Palm Beach County on Friday.  The woman, Nancy Hill, was treated at a local hospital, but both of her dogs died.  Then, the bees proceeded to attack another pair of dogs, killing one and injuring the other. 
Crews removed 50 pounds of honeycomb from the side of a home nearby.  They are currently running tests to see if the bees were Africanized "killer" bees or just the everyday ordinary type.  The difference being that killer bees are much more aggressive.
 If you live in an area where you are not yet starting to see snowflakes and cold weather, make sure you are on the lookout for bees and other warm-weather pests that could harm you or your pets!
Until next time,
Good day, and good dog!
Similar Posts: