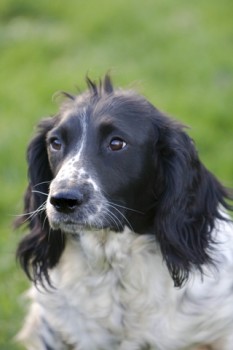 A fantastic story from the UK about a flying Springer Spaniel named Poppy.
During a walk on Valentines' Day along the top of the Seven Sisters chalk cliffs in East Sussex, Poppy got to chasing a seagull.  Unfortunately, when the gull got to the edge of the cliff, he had more options than poor Poppy.  The dog was running so fast at that point, she had no chance to stop, and ended up launching herself off the cliff…straight down 300 feet to the beach below.
Kinda reminds you of the dreams you had as a kid where you could fly, doesn't it?
Fortunately, because she had been running so fast, she ended up falling away from the cliffs into at least a little water, rather than straight down on the rocks.  Poppy was able to swim to shore, where she patiently waited for rescue by the Royal National Lifeboat Institution search and rescue service.  Ironically, both members of the lifeboat crew live with Springer Spaniels themselves, so they were thrilled to find Poppy with only minor injuries.
She has since made a complete recovery from a partially collapsed lung.
See the rescue video here.
Until next time,
Good day, and good dog!

Similar Posts: