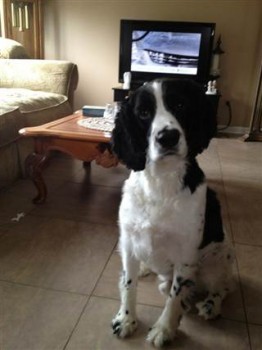 NBC News is reporting the story of Hendrix, a 6-year old Springer Spaniel who recently had a VERY long flight! This especially caught my eye because I leave for Phoenix next Sunday.

When Meredith Grant moved from Staten Island to Phoenix, she asked her mother to ship her dog to Arizona after she'd had a chance to get settled. They bought a ticket on United and mom took the dog to Newark International for take-off.
Apparently, the "International" part of the airport name was taken a wee bit too seriously when Hendrix was accidentally placed on a flight headed for Ireland, rather than one headed west. Ms. Grant panicked when she realized her dog was going to be subject to such a long journey and requested that Hendrix be walked and fed while in Ireland. (Wonder if he got boiled cabbage, potatoes, or Irish stew?) The plane's pilot assured her the dog was being well cared for.
Fortunately, the story had a happy ending when Hendrix was eventually delivered to Ms. Grant in Phoenix. United says this is not their typical story, and they remain committed to providing safe transport to pets going forward.
Grant, however, remains unconvinced. She states that Hendrix is still acting strangely and will cry for no reason. In addition, she says she has not received even an apology, much less an explanation, from the airline.
Until next time,
Good day, and good dog!
Similar Posts: