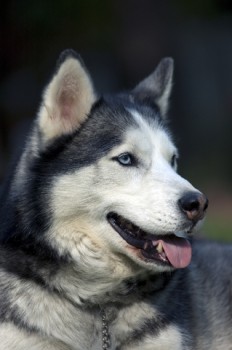 I have been privileged to be chosen as a reviewer for Laurie Kaplan's book, Help Your Dog Fight Cancer:  What Every Caretaker Should Know About Canine Cancer. Laurie wrote the book after watching her beautiful Siberian Husky, Bullet, die from lymphoma in 2004.
This book had to be tough to write, as it chronicles Bullet's story through four years of valiant struggle against the disease that kills as many as half of all dogs.  However, the book is an invaluable resource to those of us who never want to give up on our dogs, even when the situation seems hopeless.
Laurie answers such questions as whether or not you should have your dog tested for cancer, and what you should consider when trying to decide whether to treat the cancer or to keep your dog comfortable while the disease takes its course or to put your dog down when there's nothing else that can be done.
The book reviews medical and surgical interventions, including the side effects you can expect to see.  It also covers diets which may be beneficial, as well as other things you can do to assist your dog including supplements and alternative therapies.
Finally, Laurie explores "Pawspice", the canine version of the wonderful Hospice program with which many of you are already familiar.
"Plus if you order now":
Bonus #1:  Especially for readers of this blog, Laurie is offering a discount on the book which you can receive by clicking here.
Bonus #2:  Laurie also founded the Magic Bullet Fund which provides financial assistance to families who cannot afford their dog's cancer treatment. 10% of proceeds from the book go towards MBF. More information can be found at their Web site.
For those of you who have fought the brave fight with your animals, I hope you will consider buying the book for a friend who is dealing with his or her dog's cancer.  And if you are in the middle of your dog's fight, I can't think of a better resource to help you.
Until next time,
Good day, and good dog!
After I posted this, I received the following e- mail from Laurie:
Bullet did not die from lymphoma – he survived lymphoma. The best prognosis for that disease is 12-18 months, and Bullet survived 4 years and 4 months after the diagnosis. The cancer never came back!
I lost my sweet boy to kidney failure when he was almost 14 years old (very old for a Siberian!)
That was 5 years and a month ago, and I still miss him so…
I apologize for the error, Laurie – thanks for the correction!

Similar Posts: