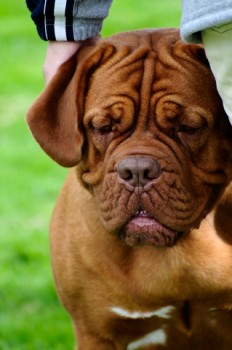 Holly, a Dogue de Bordeaux, will be competing with her brothers Brando and Ceasar at the 134th annual Westminster Kennel Club show next week, but that's not the real story.
According to an article in USA Today, Holly was diagnosed with lymphoma last year at the age of two-and-a-half.  After receiving experimental treatments, her cancer went into full remission for eight months, although it has recently returned.
If you've ever been around a dog with lymphoma, you know that it takes most dogs in 6 – 8 weeks, but a combination of surgery, radiation therapy, and chemo have given Holly a much longer time with her family, Vickie and Paul Saez.
The Saez family, along with vet Patrick Mornane and his wife, and oncologist Davie Lurie and his wife, started a cancer foundation known as PawStrong (no doubt named after Lance Armstrong's "LiveStrong" campaign) to raise awareness about the wide variety of pet cancer treatments available.
Although Holly is ill again, she is expected to compete at Westminster before beginning bone marrow treatments.
We wish her the best of luck, both in the ring and in the oncologist's office.
Until next time,
Good day, and good dog!
Similar Posts: