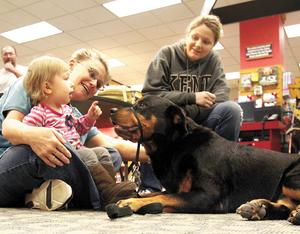 From my hometown paper, the Canton Repository: The relatively new bookstore in town, a Books-a-Million, has recently started a weekly story hour with a young woman named Dusty reading stories to the pre-school set. And to make it even more fun, her Rottweiler Sassy comes along to play.

The store owner's wife works in a cancer center, and after seeing Pet Partners-certified Sassy at work with some of her patients, his wife suggested the dog come to the book store as well.
Sassy also works her magic at area schools.
That's one hard-working therapy dog!
Until next time,
Good day, and good dog!
Similar Posts: