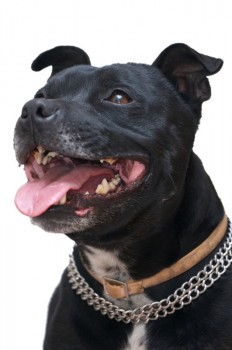 The Baltimore Sun is reporting that one of the dog's seized from Michael Vick's dog fighting business has gone to California and is working with cancer patients as a therapy dog.  The oncology director, Paula Reed, says, "He is wonderful, and all the patients love Leo.  They really love his eyes and gentleness."
As other articles on both doggies.com and breeders.net have shown, Pit Bulls can be trained and socialized to be wonderful dogs, or they can be trained to fight.  It is unusual for a dog to be able to switch mid-stream, however.  Leo's transformation took about five weeks.  Of the other 50 dogs seized from Vick's Bad Newz Kennels in Virginia, only one was put down for being too aggressive.
The other 49, like Leo, were shipped to various pet sanctuaries and training facilities nationwide.  Leo's destination was Los Gatos, in Northern California, where he was cared for by Marthina McClay, president of an advocacy group for pit bulls. 
After training Leo, McClay takes him to the Camino Infusion Center to provide comfort to patients who are undergoing chemotherapy, and to the Alternative Placement Agency, where young people on probation seem to identify with Leo.  McClay says, "I think they saw this dog's awful background, and it communicates to the kids that you can end up being what you want to be."
I'm sure Leo never thought he'd find useful work, after living at a place where dogs who were not aggressive enough were shot, electrocuted, drowned, hanged, or slammed to death.  Fortunately, most of the dogs were able to be salvaged, and Vick as well as three others are serving federal prison sentences.
Until next time,
Good day, and good dog!
Similar Posts: