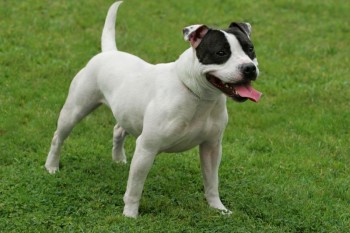 Harvey, a Stafforshire bull terrier, made good use of his family's trampoline.  He really, really wanted out of his fenced-in yard, so he simply bounced his way out!
His guardian, Laura Kidson says he has always been something of an escape artist.  She is worried because the bull terrier is the breed most stolen in England, and no one has seen the dog since he disappeared from the yard.
You may recall that this is not the first trampoline story to appear in this blog.  My buddy Giles used to kick the neighbor kids off their own trampoline, thinking it belonged to him!  I never imagined dogs would be interested in being bounced around like that – always thought the ones you see in commercials must have been specially trained!
What does your dog play on or with that doesn't belong to him?  Drop me a line at [email protected], or enter your comments below.
Until next time,
Good day, and good dog!
Similar Posts: