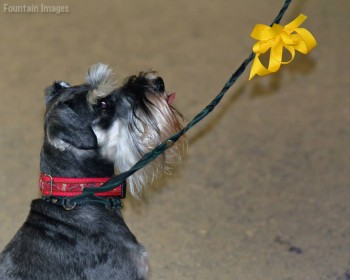 This was a new one on me, but sounds like an interesting program for dogs who don't like to be crowded.
The Yellow Dog Project is a global movement for owners of dogs that need space. It hopes to educate the public and dog owners to identify dogs needing space, promote appropriate contact of dogs and assist dog parents to identify their dog as needing space.

Yellow Dogs are dogs who need space – they are not necessarily aggressive dogs but more often are dogs who have issues of fear; pain from recent surgery; are a rescue or shelter dog who has not yet had sufficient training or mastered obedience; are in training for work or service; are in service; or other reasons specific to the dog.
The Yellow Dog Project seeks to educate appropriate ways to approach or make contact with a dog with permission of a dog owner only, whether or not a dog is a "yellow dog". They also seek to promote the use of yellow ribbons to
identify yellow dogs needing extra space.
The Yellow Dog Project was started by Tara Palardy; a dog trainer in the city of Red Deer, Alberta, Canada. In a statement to supporters, she said, "I started to teach owners how to deal with their yellow dogs and that's where this whole thing started – locally." She is also the manager of a dog daycare in the same city; volunteers every Sunday to the Central Alberta Junior K9 Club; and provides dog walking services.
About the project Tara says, "I had no idea thousands of people would join. I figured some friends, other trainers…but nothing global. And Surprise! Here we are."
You can follow The Yellow Dog Project on Twitter @yellowdogproj or check out their Facebook page. For specific questions, you can contact the project by sending an e-mail to [email protected]
Until next time,
Good day, and good dog!
Similar Posts: