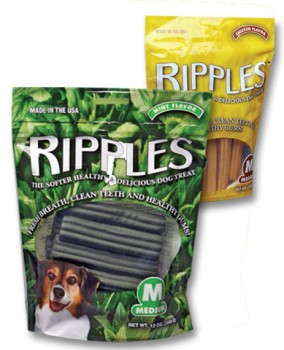 I received a sample of Ripples Dog Treats last week, and I have to say, my dogs LOVED them! They are sold on the Web site of the Good Pet Stuff Company, where they also have cool stuff like harnesses and seatbelts to keep your dog safe in the car.
What I liked about the treat is that it takes the dog a bit longer to eat than most treats I give my dogs. I felt like they got at least a little bit of enjoyment out of the experience rather than just wolfing down some worthless calories.
According to the manufacturer, the advantage of Ripples is a "unique soft – but firm – texture that is the result of being fully cooked and extruded like dog food, rather than injection molded like old-fashioned chew treats." They are billed as being easily digestible and shaped to avoid choking and digestive tract blockage.
Low in fat, high in protein, and made from American-made ingredients, Ripples actually have spinach (making your dog "strong to the finish"????) to give your dog extra chlorophyll, vitamins, and amino acids. They come in three sizes and two flavors (chicken or mint) for any dog over 5 pounds and older than 6 months.
The grooves and ridges work their way between your dog's teeth and massage his gums to help control plaque and tartar. I haven't bought a large supply, so I can't vouch for the long-term benefits, but my dogs sure did like them, and I thought they looked like a good idea.
You can apparently buy them in any pet store or on the Good Pet Stuff Web site.
Until next time,
Good day, and good dog!
Similar Posts: