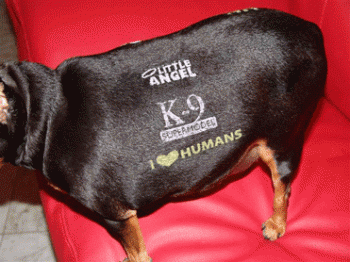 A new product from Pet Science Labs allows you and your dog to make a statement! Using non-toxic paints in a variety of colors, you simply apply the paint to the soft foam rubber stamp and press it against your dog's coat. When it starts to fade, or if your dog needs to go to a job interview, simply wipe off the paint with a wet paper towel. Be sure to use light-colored paint on dark-colored dogs, and vice versa.
Please note: this is not a permanent tattoo you can use to ID your dog in the event of theft. This is simply a fun way to allow your dog to express himself at the dog park.
Available stamps include "Say it to the Paw" and "Drama Queen" (perfect for my Beagle). If you're dog's a bit on the wild side, you might like "Devil Dog" or "Bad Ass". How about "Will Work for Food" (shaped like a chicken wing) or "I [heart] New York"? And if you have a breed that is in danger of being banned in your municipality, you may like "Punish the Deed, Not the Breed".
Each stamp currently sells for $6 and comes with a 3-color paint pot and paint brush. They will also custom-make a stamp for you, if your dog has something unique to say for a special event. Sounds like fun! If you've tried them, let us know what you think.
Until next time,
Good day, and good dog!
Similar Posts: