I am on the e-mail list for a publicist from the National Geographic channel, and it appears they've been busy this summer, lining up new shows for the fall.  Here's a round-up: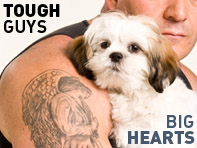 Rescue Ink Unleashed  is a new weekly series that documents this unlikely group of animal activists on their crusade to save helpless, abandoned and abused animals.  Featured on "Ellen" and in The New York Times, this eclectic band of brothers — composed of club bouncers, security guards and even a retired New York Police Department (NYPD) detective — is on call 24/7 to take on cases no one else will.  They're not cops, animal experts or even animal control.  They're just big guys with even bigger hearts and a desire to save animals from deplorable living conditions and abusive or simply misguided owners.  Each one-hour episode of Rescue INk unleashed takes viewers on "ride-alongs" as members follow up on leads in the New York metro area.  Taking an average of 100 calls a week at their headquarters on Long Island, they jump into their cars — or on their "hogs" — and confront alleged animal abusers, rescue fighting dogs, investigate stolen animals and (firmly) encourage owners to give up their pets if it is in the best interest of the animals.  A book about this group was also recently released (see the upcoming article in our Doggies Den on Top Ten Books About Dogs).  New episodes air on Friday nights at 10 pm, and then are repeated throughout the week for those of you without TiVo.  Click on the link above for info about the episodes and about the guys in the club.
 Unlikely Animal Friends.  Remember my post last week about the orangutan walking the dog?  Turns out that is just the beginning!  In this show, an elephant holds vigil for a sick dog. A baby hippo chooses a giant tortoise as a surrogate parent. A lion instantly recognizes two men a year after their last encounter. And a lioness turns down an easy kill when she comes across a baby oryx. Can animals really build friendships with other species, people, or even their own prey? How do these odd couples come to be? What do they gain from these improbable companionships? This one-hour special will take a heartwarming look at these curious bonds and explore the emotional complexities behind unlikely animal friends.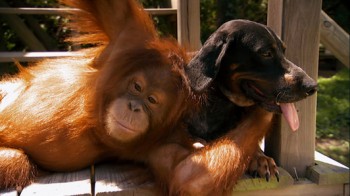 I thought this one was a series, but unfortunately it was only a special, so it was on originally back in September.  I would imagine there will be re-runs, but none were listed on the Web site.  I'll let you know if I hear of it coming back.
 And last, but not least, Dog Whisperer Cesar Milan   is back, starting his 6th season tomorrow night (October 9th) at 9 pm.  The season premiere begins with Junior, a pit bull pup Cesar hopes will someday assist him with his toughest cases now that his trusted right hand Daddy is nearing retirement. Daddy and Cesar have been a team since Daddy was four months old, and any fan of Dog Whisperer knows Daddy accompanies Cesar on many of his hardest cases — including a visit with Oprah!  But with age come limitations.  So, in order to ease Daddy into retirement, Cesar adopted the first young puppy for his puppy project — Junior. Daddy and Junior were instantly attracted to one another, and thus Junior joined Cesar's pack. Next Cesar selects a Labrador pup to join the pack. Southern California Labrador Retriever Rescue brings two labs to Cesar's Dog Psychology Center. Cesar is immediately drawn to the calm, submissive male, whom Cesar slowly introduces to the pack at the center. The pack mentality of all the dogs has never been clearer, as you can see firsthand how — with no human interaction — the pack slowly takes in the new puppy. Cesar eventually names this little guy Marley, after one of the world's most famous bad dogs (the subject of last year's hit movie "Marley & Me," about the life of Cesar's client and friend John Grogan).
 Until next time,
Good day, and good dog!

Similar Posts: