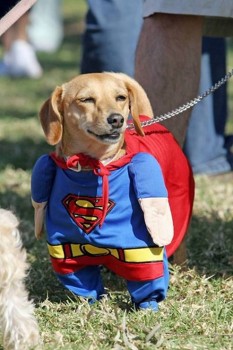 Maybe I don't get involved enough, but I don't think there are this many dog-centered activities here in Canton.  I received this e-mail from friend-of-the-blog Cynthia, who is involved in an organization known as St. Almo's.  They have some great ideas here!
Hope your canine pal's costume is ready.   Eighty four downtown businesses have signed up to be Wag-O-Ween trick or treating sites! After you purchase your map at Canine Palace ($5 per adult, no charge for children or dogs), you will be on your merry way collecting free dog cookies.  All money collected goes to the Humane Society to help unfortunate animals.     Wag-O-Ween rocks!
The Yappy Hour at Screaming Mimi's was a good time!  Their pizza is wonderful and the staff was excellent in taking care of 30 plus people and their dogs.
Next Yappy Hour will be Tuesday, November 10th

at the Distillery on Liberty near MLK.   As usual, you will receive the info and a flyer closer to the event.
Holiday Party!!!!

You and your dog are invited to partake in holiday cheer on Sunday, December 5th.   The party begins at 3 p.m. at the Lazaretto Boat Club on Wilmington Island.  The main dish will be provided – everyone please bring a side dish or dessert and beverages to share.  A map and further information will be e-mailed in November.
TRICK OR TREAT – WOOF! WOOF!
Do you have lots of dog events in your community?  Please write and let me know what you do to support the canine community.
Until next time,
Good day, and good dog!
Similar Posts: