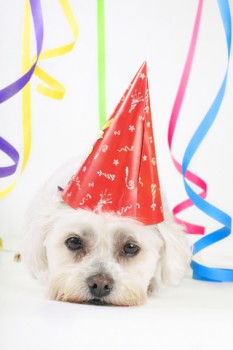 OK, I admit my dogs are spoiled, but I don't think I would go quite this far. Apparently, the newest thing is to throw a birthday party for your four-legged child. I'm not just talking about gathering around the dog dish and singing Happy Birthday while your dog feasts on canned food.
Apparently, some people actually send out special printed invitations and rent a boutique which provides dog tummy-friendly cake, activities and party favors. Wonder if they give the dogs fun party hats and noisemakers?
I'm not kidding! At Bella and Daisy's in San Francisco, a typical party costs about $200. I don't even spend that much on my kids' parties, but them I'm pretty cheap.
Google lists over 480,000 sites for a "dog birthday party" search.  You can get more than you ever thought about finding to help your pooch celebrate his special day.
Some sites, like Dog Birthday Party, are dedicated entirely to the subject.  Others offer dog party ideas as a sideline to their primary business. 
Some stores even offer a gift registry, so your dog's friends willl know what to buy as a present for the party.
You can also shop for party invitations, and other dog-related cards at BarkTalk, with prices ranging from about $14 to $17.
So, if you really, really, really love your dog, now that you know about these parties, you're of course obligated to plan one!  Let us know how it goes.
Until next time,
Good day, and good dog!

Similar Posts: