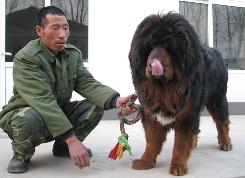 What's the first thing you think about when you ponder dogs in China – chop sticks, right?  Finally, some good news from a country not known for human rights, let alone canine rights.
Apparently, as Chinese begin to realize more material wealth, one of the ways they show their status is by purchasing a Tibetan Mastiff.  According to a recent story in USA Today, recent prices paid for these huge dogs range from $200,000 to $600,000.  (Here I thought I paid to much for my Vizsla.)
According to the article, two animated feature films are in the works in China, featuring the Tibetan Mastiff, one based on a novel and one based on a  comic book.
One breeder names his dogs after world leaders, having so far raised Putin, Sharon, and Son of Bush.  One of his dogs, named Obama, commands as much as $30,000 per liaison with a female in heat.
The popularity of the breed has raised some concerns, such as people adopting the puppies without knowing what they are getting into, then dropping the dogs off at a shelter when they simply get too big.  In addition, China has a rather low rate of canine vaccinations, and dogs are often killed by the government to prevent the spread of rabies.  Finally, there have been stories that the Tibetan population of Mastiffs is quickly dwindling.
The whole situation of Tibetan-Chinese relations is also tied up in the debate about the dogs, with winners at American Tibetan Mastiff Association Shows being paraded in front of a flag symbolizing the Tibetan Independence Movement.
Until next time,
Good day, and good dog!
Photo by Calum MacLeod, USA TODAY

Similar Posts: