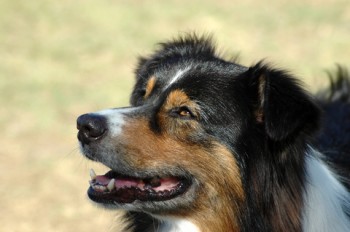 A long time ago, I wrote about the smartest dogs, and just yesterday, this comment appeared on that post. I thought it was too cute of a story not to share with everyone. Thanks to Elena for writing.
The Australian Shepherd deserves more credit than it is obviously given though. I had one for 16 years before she died. My father marked our 135 acre property line for survey one day. Lady and me followed him all the way around. Lady from that point on after she accompanied us to the bus stop in the morning patrolled that whole property line every day. (Dad followed her once to figure out what she was doing.) And she knew exactly when the bus dropped us off b/c Dad watched her go get my horse and the two of them would walk down to the fence line at the bus stop every afternoon. (One day Mom picked us up from school, and at around 5 o'clock Mom yelled at me to go get Lady b/c she was still waiting at the bus stop looking up and down the road. She was on her patrol when we'd gotten home and didn't realize we were in the house with Mom.) She did many incredible things over the years, and almost treated me like her pup rather than her owner. She saved my life several times.
I think the breed deserves more credit. But, a lot of people seem to dismiss them. I've never understood why.
Until next time,
Good day, and good dog!
Similar Posts: