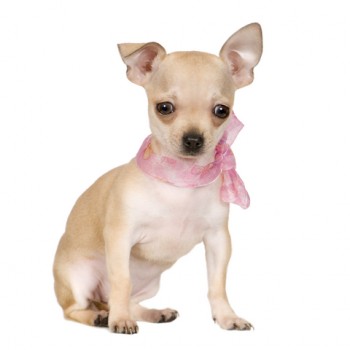 Remember the island of misfit toys from the classic Christmas movie Rudolph the Red-Nosed Reindeer?  Apparently, actress Sandra Bullock and her husband Jesse James (of West Coast Choppers and Monster Garage fame) have carried this theme to the dog world.
The couple adopted a three-legged Chihuahua-Pomeranian named Poppy from a shelter in Long Beach several years ago.  When the shelter called back, saying they now had a 2-legged dog for adoption, the celebrity couple opened their home yet again.  Ruby, a Chihuahua, also shares the home with Kernie, a Lab mix, and Jessie James' two Pitbulls, CinnaBun and Mr. T.
According to a story from just after the adoption in the  Celebrity Dog Watcher blog, Bullock said "We just got her [Ruby] a couple of months ago.  We now have a dog with just two legs, she walks on her hind legs. She was born with like a little flipper here and a little flipper here… She's like a little dinosaur,  a Velociraptor."  I just love that description!
According to an article in People Magazine, "Any dog that is missing something is welcome in our house," she said of her Texas home, which she and James share with his pups, as well. "If we can't handle them, we find them a home. But they seem to find us."
Bullock also owns a bakery in Austin, Texas, where she has a little area outside featuring an umbrella for shade, water bowls, and an old-fashioned hitching post to which dogs can be tied while their people friends enjoy a danish or cup of coffee.
More recently, the couple has been in the news for hiring a pet detective (presumably it's NOT Jim Carrey) to find Jesse's lost CinnaBun.  The dog has been lost since January 24th, and a $2,000 reward is offered. 
CinnaBun has cropped ears, a long tail and was last seen wearing a pink collar. If you have any information on her whereabouts, call 562-983-6666.
We wish them the best of luck in recovering CinnaBun quickly.
Until next time,
Good day, and good dog!
Similar Posts: