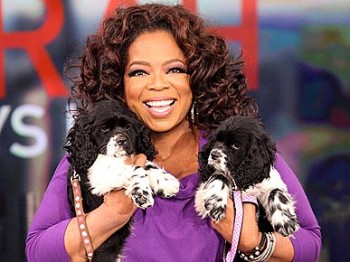 Both the former Olympic diving champion and the current talk show queen were featured on People Pets this week with their cute-as-a-button dogs.  BTW – I can't believe Louganis has gone totally grey – makes me feel like I might be getting old, too!
Just in time for her 56th birthday, the no-kill shelter (Chicago PAWS) where Oprah got her Cocker last year called her to say they had two 14-week old Springer Spaniels who needed a home.  Sunny and Lauren helped Oprah celebrate her big day on camera – see the slide show here.
When you're done oohing and aahing, check out the video of Greg Louganis with his agility competitors:
Until next time,
Good day, and good dog!
Similar Posts: