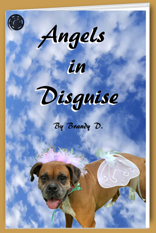 I received an e-mail the other day from Kyla Duffy of Happy Tails Books, regarding some exciting things they have in the works.  I love free stuff!
If you want to find out more about the dog breeding industry, dog rescue, and how to socialize a distressed dog, you can download a free e-book here.  If you or someone you know is dealing with the loss of a pet, you can download a free copy of a poem on pet loss here.
Is your child a budding writer?  Happy Tails Books is inviting children ages 8 – 16 to submit short stories, essays, poems, and artwork depicting all of the wonderful reasons they love their adopted pets.  This is a great opportunity for children to participate in animal advocacy, win great prizes, and get their work published. 
Deadline for submissions is June 15, 2010, and the best entries will be published in a book tentatively titled  "I Love Buddy" by September.  There are two age categories:  8 – 12 year olds and 13 – 16 year olds. 
Suggested entry fee is a $10 donation.  First place winner in each age group wins $50, second place gets $25, and the top five entries in each group get a T-shirt.  Every entry earns the writer or artist a bookmark.
If you're not familiar with Happy Tails Books, they publish breed-specific compilations of stories about rescued dogs, and are always looking for stories to add.  Their books are meant to entertain pet lovers, raise awareness about pet adoption, and highlight typical breed characteristics.  They provide a venue for proud owners to showcase their adopted pets and generate funding for rescue groups through the donation of a significant portion of each sale.
To submit your child's writing or to send in a story of your own for their breed-specific publications, click here.
Until next time,
Good day, and good dog!
Similar Posts: