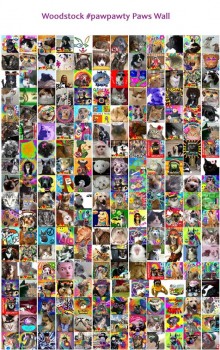 Most of what I learned at the conference had to do with making me a better blogger, but I did have a few things I wanted to share with you.
I had a chance to hear Andrea Arden from the Animal Planet show Underdog to Wonderdog give a lecture on her interests.  If you haven't seen the show, you might not know that she is into animal welfare and positive dog training and is a member of the Association of Pet Dog Trainers.  In addition, she  works tirelessly for the Animal Haven Shelter in New York City.  If you want to see more of what she's up to, check out her blog.
I also got to hear Elisa Camahort Page, one of the co-founders of BlogHer, a site that since February of 2005 has been building a "bridge between brands eager to reach and authentically engage with women online, and the influential bloggers who count those women amongst their readers…now numbering over 16 million per month."  Elisa was a great storyteller, and presented a ton of information on how blogs are literally changing the world.
I also learned about PawPawties, which are virtual pet parties held to raise funds for various animal welfare charities.  I won't say I totally understand how they work because they are held on Twitter, which I have yet to explore.  Here's the link to their site.  One of the people who is very involved in these PawPawties put together a very touching video, showing some of the parties and some of the causes for which money had been raised.  I'm hoping they'll put the video out on YouTube or some place you can all access it.
And on the subject of animal charities, probably the best aspect of the BlogPaws conference was that the organizers were able to use some of the profits from the conference to make a donation of $2800 to each of three charities (chosen by participants):
Animal Friends – Pittsburgh
Animal Haven Shelter – NYC
Pets without Parents – Columbus
Kudos to the BlogPaws founders for not lining their pockets with the money!
Tomorrow:  top ten sites I became aware of from this conference.
Until then,
Good day, and good dog!
UPDATE:  Just found the PawPawty video (actually showing how you can "be the change you  want to see" in a lot of different ways) on YouTube:
Similar Posts: