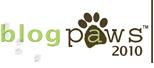 I met so many people at the BlogPaws  conference, and wanted to give you an opportunity to connect with some of them, too!
10.  Felissa Haclas Elfenbein from Two Little Cavaliers, shares thoughts about her life with Cavalier King Charles Spaniels.
9.  Dr. Larry, a vet who blogs for Purina on their blog, Scratchings and Sniffings.
8.  Andrea Arden from Underdog to Wonderdog, who blogs from her own site.
7.  Vicki Boatright, also known as BZTAT, who creates wonderful pet art at BZTAT Studios.
6.  Bernadette Kazmarski, who specializes in animal portraits.  See a blog about her work here.
5.  Ronnie Daldos, who sells "healthy stuff for dogs", such as mobility aids, orthopedic beds, and a hot/cold pack that can be strapped onto your dog with velcro.  Her site is here.
4.  Humor and Christian writer Joanne Brokaw (no relation to the newsman – I asked).  Her dog Bandit writes a column for dog lovers at DogVotional.  I sat with Joanne at lunch at the conference – she has a very interesting life, not only raising dogs, but also raising chickens in her "very small" backyard outside Rochester!  You can also see her other (very funny) blogs at The Great Chicken Adventure and Notes from the Funny Farm.
3.  Kenn Bell from the Dog Files.
2.  A woman from the ASPCA (I've lost her card & can't remember her name – sorry!), but she told me about their blog.
1.  Candy Blakeslee, of Best Friends General Store.  Some of you may know her as Betsy & Norman's mom, as she is a frequent commenter on this blog.  She has a blog attached to her store that you can check out here.
As you can see, I had a FABULOUS time at BlogPaws 2010 and met a ton of interesting dogs and their people.  With any luck, I'll be able to attend again next year.
Until next time,
Good day, and good dog!
Similar Posts: