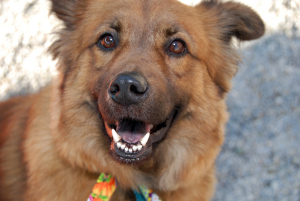 Welcome to a brand new feature on doggies.com.  Each Sunday, I will pick a shelter somewhere in the United States (at random) and feature a dog who is waiting for a forever home.  Even if you can't take this particular dog, please consider going to your own local shelter and picking up a new member for your family.
Not sure where to go?  You can search PetFinder's shelter database here.
This week's feature d dog:   Delilah, from  Save the Animals Foundation, Cincinnati, OH
Delilah is an adult female Chow-Chow Shepherd Mix.  Her former owners had her since she was a pup. One day, they decided that–with three kids and full-time jobs–they didn't have room in their lives for Delilah or for her big, nine-year-old canine brother. Delilah is not fond of shelter life; but when she has a volunteer-friend sitting with her, she lights up and turns to goo. She really misses having a home and humans of her own. She is in search of a family that will consider her a blessing, not a burden. Born 10/06
Save The Animals' Rules:
All of our animals are spayed/neutered and current on shots.
You must complete an application at the shelter prior to meeting any of our animals. (Sorry–our application is not available on-line or via email.)
We do not do same-day adoptions; we ask that you return for a follow-up visit before taking an animal home.
We require a fenced yard (sorry–no invisible fences) for homes with children under age 13.
We do request vet and personal references.
At this time, we are only able to consider applicants within 150 miles of Cincinnati.
Please let me know if you adopt Delilah or another shelter dog.  I'd love to do a feature on a happy adoption story.
Until next time,
Good day, and good dog!
Similar Posts: