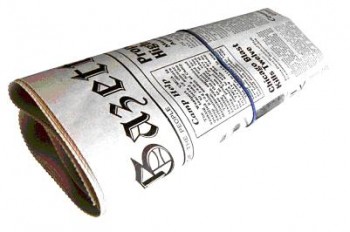 I've found quite a few news items of interest this week.  
First up:  Dog Stuck in Recliner at Assisted Living Center.  Firefighters in Naperville, Illinois responded to an emergency call from the Sunrise of Naperville Assisted Living Center, arriving to find 5-year old Ebonyser stuck inside a recliner after the electrical controls stopped working.  The terrier lives with 87-year old Ken Maris, who says Ebonyser has some nerve damage and is on pain killers, but is recovering well.  Firefighters had to saw the chair apart to get the dog out, while a nurse's aid hung onto the chair to relieve the pressure on the dog. 
Today (April 29, 2010) is International Guide Dog Day.  Check out Guide Dogs of America  to learn how you can help support these important helpers. 
Did you hear about the dog who led police to the burning building from which his guardian had just escaped?  See the article from the Post Chronicle  and the video. 
And finally, from the NY Post :  Peter Balestrieri has opened a 3,000-foot indoor canine club in the heart of Manhattan's financial district where dogs can receive spa baths, mud masks, homemade meals, and manicures.  In addition, they can visit the doggie disco for an evening of dancing under a disco ball to music supplied by a doggie DJ.  
The Fetch Club will also offer daytime daycare services to dogs who just want something to do while their human friends suffer the daily grind.  In an attached humans-only lounge, people can check their e-mail have a cup of coffee, and watch their dogs enjoy the play room. 
Sounds fun!  I'll have to take my dogs next time I go to my favorite city – "the city so nice they named it twice," as Letterman says.
Until next time,
Good day, and good dog!

Similar Posts: