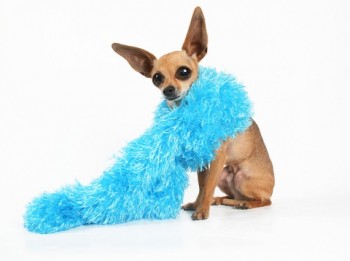 You've heard the expression, "living the life of Riley"?  I don't know who Riley is, but I'm thinking I would rather be living the life of Conchita, Lucia, and April Marie.  As the four-legged children of Gail Posner, they got used to living in a luxurious $8.3 million mansion on Sunset Island near Miami. 
When Posner died last March, she left $1 million to her 2-legger, but $3 million to the dogs (and $27 million to her household staff!).  Of course, the will is being contested, but there appears to be some precedent for Posner's over-indulgence of the Chihuahuas.  At one point, she hired a publicist for Conchita to promote the dog as the world's most spoiled.  In 2007, the dog was reported to have a $12,000 summer wardrobe and a $15,000 diamond necklace, although the dog refused to wear it.
I'm thinking $15,000 worth of diamonds around the neck might make a Chihuahua tip over, but I'd be happy to wear it instead!
Until next time,
Good day, and good dog!
Similar Posts: