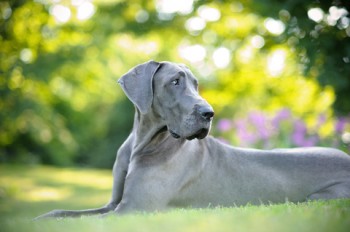 What's that saying about if you can't play with the big dogs, stay on the porch?  For those of you who are looking for a really big dog, check out our top ten list of XL dogs (otherwise known as giant breeds).  Dogs who weigh over 75 pounds as adults are generally included in this group, although many weigh close to 200 or more!
10.  Bullmastiff
9.  St. Bernard
8. Bernese Mountain Dog
7.  Greater Swiss Mountain Dog
6.  Great Pyrenees
5.  Irish Wolfhound
4.  Newfoundland
3.  Giant Schnauzer
2.  Bloodhound
1.  Great Dane – my personal favorite is the blue, like the one pictured above.
If you choose to bring one of these huge dogs into your home, make sure you have a huge crate and lots of backyard!  Not to mention an oversized dog food budget, a really big poop shovel, and miles of paper towels.  Gotta love 'em!
Until next time,
Good day, and good dog!
Similar Posts: