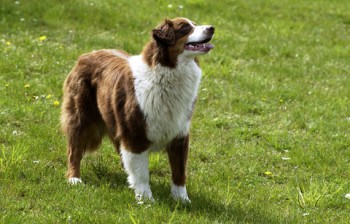 My middle son, Jimmy, has recently become involved in the Big Brothers/Big Sisters program here in Canton.  His big brother, Chris, tells this story about his Australian Shepherd, Sloopy.  (Yes, he is a big Ohio State fan.)
Mostly, Sloopy is  a great dog, but she does love to chew up paper products – paper towels, tissues, toilet paper, paper cups, etc.   After Sloopy has finished her chewing, she goes to her kennel, as if to punish herself for her misdeeds.
One day, Chris had a paper cup in his bedroom.  He left the room, and when he came back, the cup was gone.  After looking around the house, he found Sloopy in her crate, and the cup set upright on the kitchen floor.  He said there were no teeth marks or any other sign of damage.  It was as if  Sloopy stole the cup, but couldn't bring herself to chew it up.  She still felt guilty though, so she went and hid in her kennel.
What a sweet dog!  Chris also says this herding dog regularly corrals all of her toys into one spot.  I guess you can take the dog out of the barnyard, but you can't take the barnyard out of the dog.
Until next time,
Good day, and good dog!
Similar Posts: