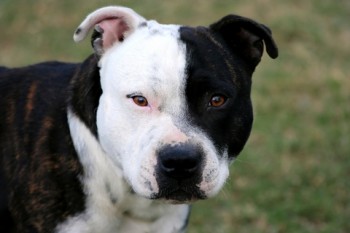 It's not wild, wacky Wednesday, but there were several news stories I wanted to comment on today.  I have a news feed that comes into my e-mail, just to keep me updated on what's going on in the world.  For some reason, today there was nothing but bad news about Pit Bulls.
1.  A woman in Northern California says she had the front door to her home open, and two Pit Bulls from the neighbor's house chewed through their fence and came inside her house.  She grabbed her infant son and went into the bedroom, leaving her four-year old and her Chihuahua to deal with the intruders.  (Doesn't seem like a great plan, but I'm assuming she panicked.)  Anyways, the Chihuahua got between the Pit Bulls and the four-year old, saving the kid's life, but the small dog was killed in the process.
2.  Dateline Cleveland:  Police went to a man's home to arrest him for aggravated murder Wednesday night.  A woman in the home opened the back door, releasing a pit bull on the officers.  When the dog began attacking, it was shot three times.  Current condition unknown.
3.  Also from Cleveland:  Police went to a home to investigate a pit bull complaint.  When the person saw the police, he took the dog inside the home and is now involved in a stand-off with police.
4.  And finally, from Summit County (near Akron):  A man reported he had been bitten by a dog, and when sheriff's deputies showed up to investigate, they found the man sheltering in his vehicle, and a pit bull mix running loose.  The dog then bit one of the deputies on the hand and refused to let go even when they used a taser on him.  The dog was subsequently shot and killed.
If you've been a loyal reader, you know I have nothing against Pits.  I've always thought a vicious dog was more a reflection of the owner than the dog.  So, here's the question:  why are there so many articles in the news?  I'm not specifically looking for them – they just happened to pop up.  Are there that many bad Pit owners out there?  Does the media specifically target stories about Pits?  Or are Pits really dangerous dogs after all?
Until next time,
Good day, and good dog!
Similar Posts: