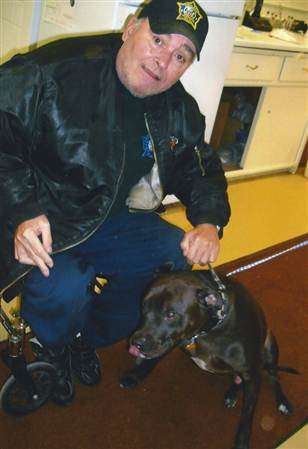 Aurelia, Iowa has a Pit Bull ban, like many other jurisdictions across the country.  Not too long ago, it came to the city's attention that Snickers, a registered service dog who lives with retired Chicago police officer James Sak, is a Pit Bull, Lab, and Boxer mix.  Snickers assists Sak after the man had a stroke in 2008.
Despite the dog's service dog status, the city of Aurelia decided that owning the dog was a violation of the breed-specific legislation aimed at Pit Bulls, and removed Snickers from Sak's home.  On Wednesday, U.S. District Judge Mark W. Bennett ruled in favor of James Sak.
A big wag of the doggies.com tail to Judge Bennett for doing the right thing.
See the story in the Sioux City Journal or the video on MSNBC.
It's nice to finally see a Pit Bull in the news for a good reason.
Until next time,
Good day, and good dog!
Similar Posts: