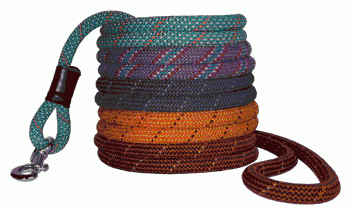 Mountain Dog Products recently sent me one of their leashes to try out.  If you haven't yet seen this innovative product, it's worth your time to visit the Mountain Dog web site or Facebook page.
What makes this leash different? Aren't all leashes basically the same – a way to tether your dog to you while you take a walk?  That's what I thought until I tried this product.  The first thing you will notice is that it is round rather than flat.  Maybe not such a big deal, but it is much more comfortable to hold in your hand than most other leashes I've tried.
The leash is also a bit elastic so it absorbs some of the shock when your dog takes off after a squirrel.   It's not nearly as stretchy as a WackyWalkr leash, but it comes closer than standard nylon or leather leashes.
The Mountain Dog leash is guaranteed not to break…ever.  Even if your dog chews through it, the company will send you a new leash, free of charge.  They will also refund your money if you and your dog aren't totally satisfied with the leash.
This product is made in the USA – always a good thing.
But perhaps the most important difference in a Mountain Dog leash is that it is made completely of recycled materials.  The company takes used climbing ropes from rock climbers, playgrounds, and anywhere else they can find them.  They wash the ropes in environmentally-friendly detergent, then recycle them into leashes. 
As you can see from the picture above, they are very attractive.  I may have to buy a couple more of these – we seem to all be fighting over who gets to use the new leash when we take all four of our dogs out for a stroll.
You can purchase the leash directly from Mountain Dog's web site for $24.95 with free shipping.  The leash is also available at select retailers nation-wide.
Try one out & let me know what you think!
Until next time,
Good day, and good dog!
Similar Posts: