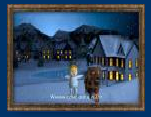 I stumbled into this cute card-maker from PetSmart while I was looking for something else. 
Go to HolidayPawtraits.com and you can create your own card, then post it on Facebook or send it via e-mail to all of your friends.  You choose a scene, then add people and pets, and write your own message at the bottom. 
If you send via e-mail, they're a little slow to load, but while you're waiting, they offer fun comments like "furrification in progress" or "knitting sweaters now".  These comments cannot be personalized, but the "pawtrait" is totally customizable to match your family, including the dogs and cats.
I had a lot of fun creating mine, even though I haven't sent it out yet.  It passed some time on a snowy, cold day!
Until  next time,
Good day, and good dog!

Similar Posts: