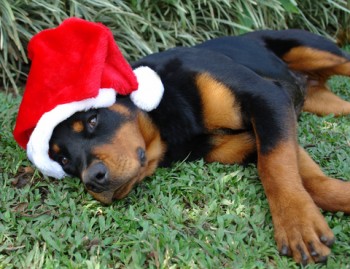 I'm guessing your kids have already sent their letters to Santa, and if you're smart, you intercepted them so you know what to buy.  In case your dog slipped his list past you, here's what it said:
10.  One of those big pig ears that last all day
9.  A stuffed Barney.  "I love you, you love me"…NOT
8.  A Best in Show win at Westminster next year
7.  A new kitten…um…I mean chew toy
6.  My own subscription to Straight Poop, doggies.com's free bi-weekly newsletter
5.  A heated back yard for the winter
4.  A baby brother
3.  A gift card good for 100 belly rubs
2.  A fraction of the love I show you every day
1.  A forever home for my buddies at the shelter
Until next time,
Good day, and good dog!
Similar Posts: