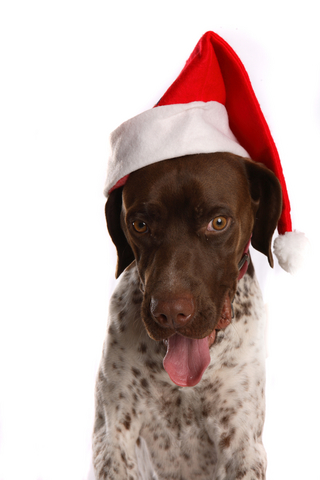 Hard to believe it's less than 3 weeks until Christmas!  And Hanukkah begins in just over 2 weeks!  So, what to get for that special hound or hound lover on your list?  Here's our top ten gift picks.
10.  Gift certificate to a spa or daycare.  Your dog might enjoy a facial or a day playing with the other dogs.
9.  A durable new ID tag.  I just bought all new tags for all of my dogs from Dog Tag Art.
8.  Pay the county registration fee for a friend who can't afford it.
7.  Make a contribution in someone's honor or memory to your local shelter or spay/neuter clinic.
6.  "I hate balls" t-shirt (human or canine) from Kathryn Heigl's foundation – to support spay/neuter initiatives.
5.  Kong toys – what's not to love?  They're durable, just about impossible for your dog to destroy, and you can hide treats inside!
4. Puzzle toys – challenge your dog's intellect while giving limited access to treats by using a puzzle toy such as those available from SitStay.com
3.  Homemade dog treats  – see the recipes in our dog den.
2.  Commit to taking the dog for a walk every day for a week, a month, or the indefinite future.  It'll be good for both of you.
1.  Get the gift that keeps giving – adopt a shelter dog.  Don't give the dog away – we never recommend putting puppies under the tree – but bring a new dog into your own home.  He can be a playmate for your existing dogs (who doesn't want a little brother or sister?), or a new friend for you, and you will be serving all dogs by rescuing those that you can.  " I have always held firmly to the thought that each one of us can do a little to bring some portion of misery to an end." –Albert Schweitzer
Need more ideas?  Check out the gift-giving guide in our bi-weekly newsletter, The Straight Poop.
Until next time,
Good day, and good dog!
Similar Posts: