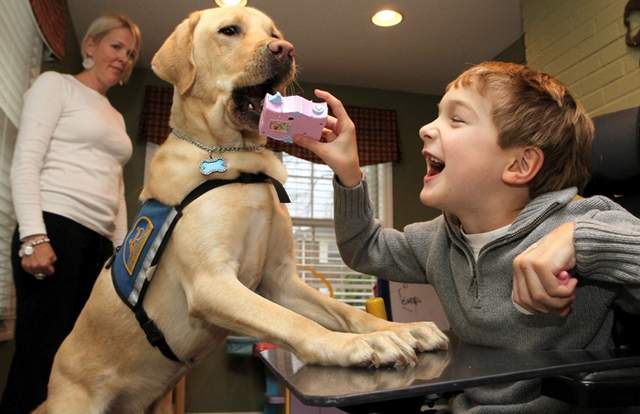 How do you get a dog not to be afraid of a youngster in a power wheelchair?  The best way I know of is to get the dog from Canine Companions for Independence in Santa Rosa, CA or one of their local training centers such as the one in Delaware, OH.
Such was the case for Crisp, who was trained by Canine Companions as an assistance dog for Mason Murphy, an 8-year old boy from suburban Cincinnati who suffers from cerebral palsy.  He had always loved dogs, but found most dogs ran away when they heard his wheelchair.  His mom heard about assistance dogs when she attended a cerebral palsy conference and put Mason's name on a waiting list.
Two year later, Crisp was matched to their needs, and became a permanent fixture at Mason's side.  He fetches dropped items, opens and closes doors, helps undress Mason at bedtime, and participates in physical therapy with the tyke.  The dog knows at least 40 commands, and the family had to train with him for two weeks before he was sent home with them.
Canine Companions spends as much as $45,000 per dog for the vet care, training, and upkeep required to produce a working therapy dog.  If you're looking for a dog-related charity where you can make an honorarium gift for someone's Christmas stocking, this might be a good one to check out.  They received 3 of 4 stars from Charity Navigator.
Read the full story of Crisp and Mason.
Until next time,
Good day, and good dog!
Similar Posts: