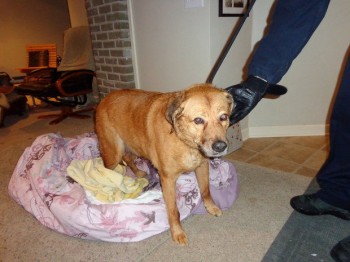 UPDATE:  I asked Pound Buddies to let me know the status of this lost baby.  Here's the response from shelter worker Connie Karry: 
The dog was microchipped and owner was contacted the day our volunteer brought it to our Shelter on Keating Ave.  Because the dog was current on rabies vaccination and licensed (but apparently not wearing it) we were able to release to the owner that day.

The dog had escaped from their yard which had an underground electronic fencing.
Yet another lesson on the importance of microchipping your dogs, making sure they stay in the yard, and having some visible means of identification to back up the microchip! The outcome could have been much sadder.
This golden lab mix was pulled from icy Mona Lake in Norton Shores, Michigan last week. Police pulled the dog from beneath a dock and are looking for the family. The dog was wearing a green collar with what looks like an invisible fence receiver on it. The dog is described as being "well-fed and old". Anyone who may know who owns the dog is asked to contact the Norton Shores Police Department at (231 )733-2691. Last I heard, the dog is in foster care with Pound Buddies.
And with this story, I send my annual warning about keeping your dog under your control and in your sight at all times if you live near water during the wintertime. Every year, I run at least one – sometimes several – stories of dogs who have gotten into trouble after jumping or falling into an icy body of water. It's bad for the dog and it's bad for the first responders who have to risk their lives to rescue the animal. We never think it will happen to us, but it very easily could be my dog or yours the next time. Play it safe! (stepping off my soapbox now)
Until next time,
Good day, and good dog!
Similar Posts: