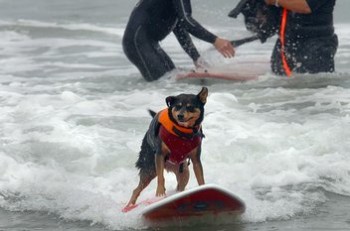 Gotta love it – dogs on surfboards!  Pictured here is Abbie Girl, winner of this year's small dog competition. 
According to the story in the San Diego Union-Tribune, the dog-surfing event drew about 2,000 spectators and raised funds for the San Diego Police Department's Canine Unit.
A total of 65 dogs were entered in the competition, ranging from a 5-pound Pom to an 85- pound Bernese Mountain Dog.  There were three classes of competition:  dogs under 40 pounds, dogs over 40 pounds, and tandem, where the dog competes with a human helper. 
Looks like almost as much fun as dock-diving!
Until next time,
Good day, and good dog!

Similar Posts: