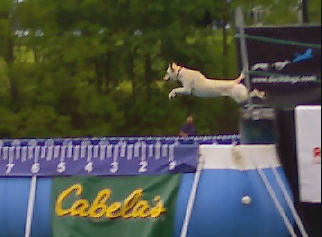 We spent some of the weekend getting sunburned at the Dock Diving competition at Clay's Park, in Canal Fulton, Ohio.† Sponsored by Cabela's, Stihl, Time Warner Cable, and DockDogs , it was so much fun! We had a jam-packed weekend, so we didn't get to stay as long as I would have liked, but we did catch some of the Big Air competition, where the dogs jump for distance.† If you're not familiar with Dock Diving, check out the article in our Dog Den.¬† Some of these dogs were absolutely amazing!
We saw a Norfolk Terrier, the first one who had ever competed in Dock Diving, jump a proud 5 feet!  He was so cute in his little life vest Рthe handler held him off the ground while she was setting up, and his little feet would just go, go, go Рhe was so anxious to get started.
We met Misty and Stormer, from Westerville, Ohio, who inspired their humans to get involved in dock diving by jumping off the docks near their home.  Unfortunately, on their first sanctioned jumps, they only went about 1 foot, but now they are up to well over 20 feet.
We also got to see a Louisiana Catahoula Leopard Dog / Pit Bull mix – tell me that's not a mouthful!
(To those of you who I interviewed, I have to apologize Рsomewhere between there and here, I lost my notes, so I know I didn't include all of you here.  Please rescue me by writing a comment & telling us your story!)

The longest jump we actually saw was 24'9″ from a Dalmation, but just as we were leaving, we heard the announcer call one at over 25 feet!
If you haven't seen one of these competitions, it is well worth the trip.  I'll try to keep you updated on future competitions so you can find one in your area.  This particular competition was part of the "Bark in the Park", which featured displays from different vendors of dog toys, accessories, T-shirts, etc.  The Dock Diving competition was the centerpiece, but there was lots of other stuff to do and see, as well.  My middle son nearly cried when we had to leave!
The competitors come from all over Рthis event had dogs from Ontario, Canada, Massachusetts, Pennsylvania, Maryland, Nevada, and Indiana. (After that, I lost track.)  My son definitely wants to start our beagle in training, and I think we may take the Vizsla as well.  I'll have to find out how we get started, and I'll let you  know.
Here's a nice article from our local paper about the competition with a great picture of the Dalmation.
Until next time,
Good day, and good dog!
Similar Posts: