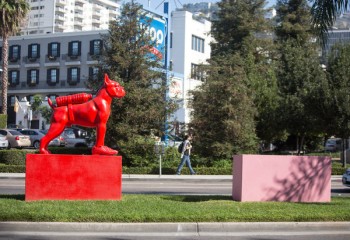 Notice anything missing in this photo? West Hollywood police are searching for anyone who knows what happened to the 200-pound pink dog sculpture that used to be atop the pink platform. The dog, wearing tennis shoes and with a water bottle strapped to his back, has been missing since the weekend of the Gay Pride parade.
Coincidence? I think not. Maybe now that Prop 8 has been overturned, he'll get his nuptials over with and come back to his perch.
The LA Sheriff's Department says no questions will be asked if the sculpture is returned unharmed.
William Sweetlove, the Belgian artist who created the dog sculptures, says they were designed to show his concerns about climate change which could lead to the need for dogs to wear shoes to protect their feet.
Until next time,
Good day, and good dog!

Similar Posts: