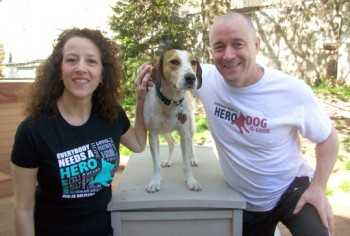 Do you remember Daniel, who won the 2012 American Humane Association's Emerging Hero award? He was the lone survivor of a mass euthanasia attempt in a carbon monoxide gas chamber in Alabama.

Joe Dwyer adopted Daniel and has used his story to help get legislation passed to stop mass carbon monoxide euthanasia, a particularly brutal way to put down unwanted dogs. Most recently, laws have been passed in Pennsylvania, Texas, and Massachusetts making the practice illegal. However, carbon monoxide gas chambers are still allowed in 25 states.
The Dwyer's ultimate goal is to have federal legislation put into effect to stop shelters from subjecting dogs to this final indignity.
Joe, along with Doug Levison, CEO of Flower Power Creative, are co-authors of DANIEL – THE MIRACLE BEAGLE Books ( Adult, Young Readers, and e-Books). The books represent a full vision of Daniel's story and mission, and his bond with Joe and family.
Joe and Daniel are aligned with the FernDog Rescue Foundation. Located in New Jersey, they are dedicated to providing better foster opportunities for dogs and adopters.
You go, Daniel!
Until next time,
Good day, and good dog!
Similar Posts: