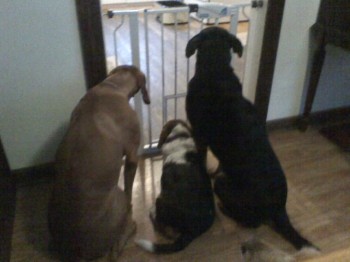 This is the view from my dining room into my kitchen.  Any guesses as to what's going on behind the baby gate?
Hint:  See the roaster pan sitting in front of the oven, ready to go back to the basement?
We cooked an awesome turkey over the weekend, and my roommate was carving up the leftovers for turkey chili later in the week.
I got such a kick out of the way the dogs were sitting so still, watching every move – had to share it with you.
Until next time,
Good day, and good dog!
Similar Posts: