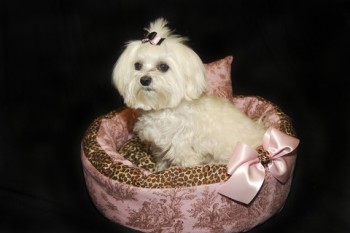 A recent post on MainStreet.com says pet spending will likely decline this year due to the economic crunch most of us are feeling.  While the American Pet Products Manufacturers Association had originally forecast we'd spend $43.4 billion on our pets this year, that number may prove optimistic as the year winds down.
Ada Nieves, a dog clothing designer and party planner, says "With the economy going the way it is, pet owners may skip out on buying the cute hats and jewelry for their dogs."  But, she continues,  "You won't see a drop in sales for items like dog food."
Nieves hopes pet owners won't forget that some pets still will need sweaters to protect them from the winter's cold, as well as other necessary items.  The sales she expects to see drop are those related to luxury products such as sunglasses, shoes, and plush carriers costing up to $600.
What about you, doggies.com readers – will you cut back on what you get your dog this year?  Send us your thoughts below.
And come back tomorrow for ways you can save money while still giving your dog the best.
Until next time,
Good day, and good dog!

Similar Posts: